Hi girls!
So I thought 2012 was an amazing year for cinema. Film makers made it look like they were all trying their hardest to have made the best film of the year. I feel as if 2011 was a very poor year for new films and now we all know why, because 2012 was the year for films!! Here are my top films for 2012, in no specific order....
Twilight: Breaking Dawn Part 2
I was so sad to see this film series end! I know a lot of people are skeptical about the series, some of the actors etc, but as soon as I saw the first film (which feels like such a long time ago!) I was drawn in completely! I then read all the books and was taken in even further! I love all of the main cast and thought the films were so well made. This final film was made with a huge twist at the end and I was no way expecting it!! All Twilight fans gave the biggest gasp of the year at the twist I think!! Stephenie Meyer definitely out did herself with that ending!! Going to miss Bella and Edward way too much!!
The Dark Knight Rises
I knew I was going to absolutely love this film before it even came out in the cinema! Absolutely loved The Dark Knight. I wasn't sure what this one had in store for us, but it was absolutely epic!! I loved the baddy, Bane and the little twist that showed the true baddy!! I loved the fact that Batman's right hand man in this film at the end we find out his first name is Robin (brilliant, I loved this moment!!). I also loved the ending, where we find Albert sitting at his cafe and seeing Bruce, like he dreamt he would! For me one of the best films I have seen in a long long time!
War Horse
So this was a film that came out all the way at the start of 2012! I read the book before I saw the film. Now the book was absolutely amazing and the film did not follow it exactly, but the film was still amazing! I cannot believe the horses in it and also the horsemanship that must of went on through it being made. I cried... a lot (I did take tissues, I was expecting the tears!), but mostly out of happy tears that Joey was a happy horse in the end. You all should know that I adore horses, so this film was always going to be in my top films of the year! I also really want to go see this in the West end! I have heard such brilliant reviews and I am desperate to see the puppets in action!
Skyfall
Wowee! What an end to Mr Daniel Craig being James Bond! Absoutely amazing Bond film and I think the best out of the bunch!! The story line of this one, the fact that part of it was filmed in Scotland, that Skyfall was the name of his house, the fact that we learned about Bond's past and of course the villain in this film was excellent!! Honestly, he made everyone laugh, the fact that he was a complete psychopath and the fact that the villain actually had a background story, which was good! He was excellently played, well done Javier Bardem and well done to the director Sam Mendes, who took a chance at changing James Bond films, that made some fans annoyed, but created an absolutely outstanding film, which was totally epic in all proportions!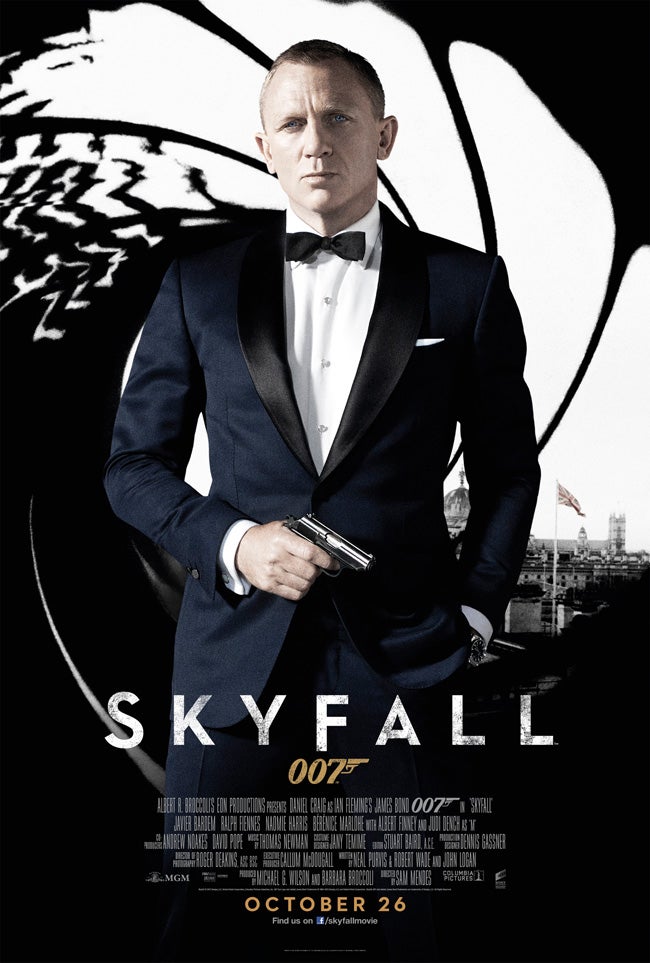 Life Of Pi
My last film to be mentioned is one that I was so excited for! I read this book over and over again, when I was young and just thought the whole thing to be so magical and amazing. It was a book that I most definitely cried over. The film was one that directors were scared to make, as the imagination needed to create it was huge. It was a film that the author was not sure if someone was able to create, but I am so glad that it finally was! Not having read the book in a couple of years, I had forgotten the start of it. Religion was a big part of the film and is something that I myself do not believe in, but yet the film was still one that I could watch again and again. The animation of the animals was absolutely amazing and so well made. I love that this film shows animals and obviously in particular tigers in a different light as to what most people would think of one (a ferocious hunter with no mercy). It does indeed show that animals have souls. In the picture below, the bottom left part of the film was one that created floods of tears rolling down my cheeks. I implore you to watch this film, if you have not already and also read the book! This is just an amazing amazing film and is so inspirational!
Images courtesy of weheartit.com
What do you think of my top 5 films? Do you have any favourites for 2012? Also have you seen these films? I would love to know what you think of them!!
Love, Jen x