I have not done this link up since January!!! That's 4 months ago! Where on earth does time go?!!
So anyway I am linking up with the lovely Ashley from
The Sweet Season
!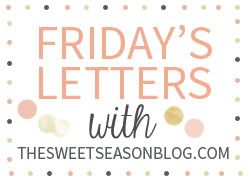 Dear Weather, Will you let us at least have two days in a row of sunshine?!? It is May now, doesn't that mean it is nearly summer and that it should be getting a little warmer... Obviously it doesn't mean anything to you anymore!! Dear Readers, are you liking the new design?! I am absolutely loving it! It was the best thing ever for my blog! I am now sponsoring blogs too! This month I am sponsoring Robin from The Sunshine Diary (she is fab!!!) and also for the next 3 months I am sponsoring the lovely Mish from Mish Lovin' Life. So you will be able to see me there! How fun!! Dear Gossip Girl, I am currently watching series 3 after becoming addicted about a month ago after a friend recommended it to me! Oh my goodness, the crazy things that these people get up to! I am currently at the part when Chuck loses his hotel to his awful uncle and his mum runs away. Jenny has also just got a job (again) with Eleanor, but I am sure something will go wrong there... Nobody tell me what happens next though! Dear Professor Layton, and yes I am talking about the Nintendo game (hehe!), I am just about to finish game one (The Curious Village) I played it once before with my old Nintendo DS (I now have a new one). So it has not been too hard, I have the next four games to play now, so we shall have to see how hard they get!! Hehe. Dear Instagram, I think I will try and upload a photo a day for the month of May! Fun times, come find me @jenstar_blonde its full of cats and fun!! Dear Malteaser Teaser Bars, you are yummy!
That is all!! Have a great weekend!