Hi girls! Friday means letters!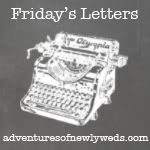 Dear Shop, I really don't enjoy going to one work in the morning, going home, getting ready, having dinner and the having to go to another work to start working at 6pm. I do like the overtime, but see when I'm working a Friday night, then a Saturday until closing and then Sunday until closing, its not very fun! So please stop making me work Friday's! Thank you!! Dear Bed, I cannot wait for my long lie tomorrow!! So excited for it, I have been needing one for a while now so be prepared! I hope your going to be cosy for me! Yay! Dear Secret Santa Gift Swap, I can't wait to receive my gift! Although my most favourite part was picking out the gifts for me to send! I can't wait until they receive it!! I would love to see her face! It's so fun! I also hope she likes it! Hehe, so yea I can't wait until we all link up next Friday and get to say who we were a Santa to! Dear Christmas Shopping, erm... Still not done any of it!!! I have no time and I also still need to pay £600 for the big holiday on the 10th of December, good timing! Not! So I will need to wait until I have done that to see how much money I can then spend on presents, so it is going to be a special gifts only Christmas rather than giving each person a lot of different presents! I hope they won't mind! Dear Odeon, thank you very much for our free tickets to go and see Silver Linings Playbook. It was actually a very good film, quite quirky I feel, but a very good story! Everyone should get one of their Odeon points card, we have had probably 14 free tickets in the time that we have had it! Its brilliant and always feels great to know that we go it into the cinema for free, just by going to the cinema 5 times! Its great, go and get one now if you go to the cinema quite often!! Dear Robert, Love it when you bring me some breakfast at work! Your so kind and awesome! Love you petty!
I think thats my letters for this week! Link up with the lovely Ashley from Adventures of Newlyweds!
Love, Jen x