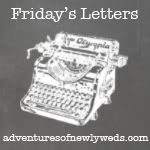 Dear Readers
, sorry I have bee absent for the past couple of days! I have been enjoying some days off at last and also been spending time off the computer (for once!). I know need to catch up with all your blogs and see what you have been up to over Christmas!! I also have some posts coming up about my Christmas!
Dear Robert
, I just want to say a huge thank you for my presents you gave me! Thank you, thank you, thank you! I really hope you enjoy going to Silverstone for the Formula 1 (I bought him two tickets for his Christmas!), you better take me! Hehe!
Dear Mum and Dad
, thank you so much for the presents! I was most definitely spoiled!
Dear Work
, I am so so so glad I get these two weeks off, the past year and a half of working 7 days a week has been good, but this December it has really caught up with me! So thankfully the shop has not given me too much overtime and I can relax! Yay!
Dear Alice and Flo
, I really hope you are enjoying your Christmas present! I was so excited when it was
delivered
on Christmas Eve! I didn't think we would see it until well after Christmas! I think you have also very much enjoyed the Christmas tree this year! Although thankfully we have not had it topple over (yet!!!)! Touch wood! Hehe.
Also look out for my Christmas posts!!