Hi girls!! Linking up again with Ashley from Adventures of Newlyweds as usual!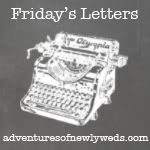 Dear November
, what are you doing here so early?! Seriously though this year has just gone so so so fast!! Eeep!
Dear Shop
, do I really have to work tonight?! really? Because I kind of don't want to. Can I not just spend the night cuddling my lovely Robert? No, oh ok then see you at half 5, after I get home from the office at quarter past 4, hoovering the house, putting on a washing, feeding the cats, getting changed and somehow getting something for my dinner.... Yea thanks for that!
Dear Robert
, looks like you will just have to fend for yourself tonight! Although I expect you at my house at half 9! Ok? Then cuddles and tv can begin!
Dear Course I am going on next week
, I am looking forward to doing the course, but a bit apprehensive as to what kind of people there will be there, what to wear, what I am going to learn and where I am going to park (also please don't make it expensive!!)! Also can you make the exam easy?! Thank you very much!
Dear Bond... James Bond
, I very very very much enjoyed Skyfall, which I spoke about
here
. What an absolutely fantastic movie! Seriously it is better than the new Twilight one (and that's me saying A LOT!). I have not seen Twilight as yet (obviously), but seriously nothing can top that amazing film I saw on Sunday, nothing!! Dear Beauty Related Posts, yes I am sorry you have been missing recently from my blog! There will be one up tomorrow, yay! Dear Next Week, I will be on my course all next week as I have said above, so I am not sure how many posts I will be able to write. Hopefully I will write some scheduled posts this weekend in between working, for me to put up during the week! Dear Working 7 Days a Week, I am not really sure how I have done this for a whole year!!!!!! Obviously I have had some breaks throughout this time, but let me tell you it does take its toll. I love when I have a very rare day off (in fact make that extremely rare! In fact make that critically endangered! Hehe!) and I don't have to think about work at all!! Can't wait for Christmas now, where I can hopefully have some days off... If the shop lets me!
Hope you all have a good weekend... What does that mean again?! Teehee!!
Love, Jen x