Hi girls! Hopefully yesterday's post went up ok yesterday and also today's, as I have used the "Schedule" button, which is oh so scary! Hehe, I like knowing exactly when they are going up!! Ok so now onto today's post! Friday's Letters, this was pretty weird writing this in advance! But you all know I love doing this great post every week, which is all held perfectly together by the lovely Ashley who is found over here!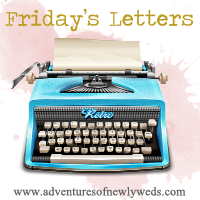 Dear London 2012 Olympics, I am going to be there when this post goes up and I am super super excited!! You better be worth the wait!! Robert has gone nuts and is on the ticket website constantly trying to buy more tickets! He is completely obsessed!! Dear Robert, you are completely obsessed with these Olympics! Hehe and I'm not surprised at all and I am very excited too!! I cannot wait to go! You have now added to our list of events and we are now going to see 4 events!! The Canoe Slalom, Rowing, Hockey and Show Jumping! This is going to be an unforgettable trip!! Dear Blogs I Follow, I know I have been pretty rubbish lately at commenting on all your amazing posts! I have been so busy recently and also lazy... Sorry! As soon as I get back from my trip to the Olympics, I will be having a look at all the amazing blogs I follow and making sure I leave a comment! Dear Cats, I hope you girls are behaving yourself, while I have been away! I'm missing your wee cute selfs the moment I left you!! Dear Readers, thank you very much for clicking onto my blog! I appreciate it very much! Dear Bedroom, I am very sorry room I haven't yet tidied away all the mess!! I shall be right on it when I return home from my trip!! Dear Team GB, come on you can do it!! Win us some more medals!! Go Team GB go!!! You all have your home nation behind you cheering you on! So you can win!! Yay!
A short set of letters for this week! Most probably because I typed this up on Wednesday night!! Hehe! So I will have one more scheduled post up tomorrow and then I should be back on Sunday!