I can't believe its Friday again!! The days go way too fast!!! Time to write those letters!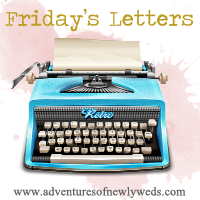 Dear Blog, I really love you very much! You make me very happy and I love writing my little posts! I just write them for myself and I write about what I like and its amazing that I have lots of lovely followers! Blog you are great!! Dear Brain, why is it at times sometimes I feel as if you have just given up and are no longer working? I don't like it and I know your tired form working 7 days a week. Writing this blog is easy as pie, but sometimes when at work you just shut off and give up on things I know that I have remembered in there and you don't provide it!! I know you are a clever brain so don't fail me now! Hehe... Dear Robert, can we please hurry up and sort out the rest of our holiday!!! It is actually very very soon and we need to get another one hotel at least! I need to tell the shop that I have to take days off and I might be too late! What dates is it again and are we going anywhere else apart from the Olympics and the Harry Potter Studios? We need to discuss this! Can't wait though! Dear Shop, please let me take my days off. If you don't then tough luck I will be down in London and will not be able to come in! Thanks for giving me my two days off! Dear Two Bedroomed Flats where I want to live, will you please come up for sale and be very reasonably priced? Also could you be quite large as well and have a garage for Robert and have two parking spaces for us? Is it really too much to ask for? I really hope not. Ooo and also when you do come up for sale only let Robert and I view you! Thanks, you will be our stand by for our auction flat thats coming up soon! Its going to go for too much and I want to stay there soo bad! Its just so unfair! Dear Kushion Club in Glasgow, hello, do you remember me? I cannot wait for tomorrow night!! Its going to be so much fun!! Yay! Please play awesome music, thanks! Dear Weather Tomorrow Night, please don't rain on my parade!! Thank you very much!
That's me for this week! Join in and remember to link in with Ashley's blog here!
Also you have got to enter my give away!!!! You could win a Stila In The Garden eye shadow Palette! You can enter here!!! Its a great prize and I know that everyone would love to have it in their make up collection! Hehe!
Love, Jen x