Ok so It's Friday again!! Girlies you should all join in! If you want to go and link in over on this great blog here!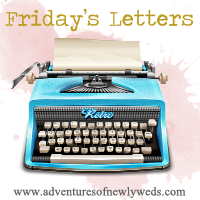 Dear 2012, you have already gone so fast!!! What is happening? How can it already be the middle of July!? Scary! Dear Friday the 13th, I'm not very superstitious, but will you be a good Friday? Don't be a nasty one and rain, because I'm going out tonight with my chums and want the weather to behave itself! So far its looking ok, but please Friday the 13th blow those big clouds away from here!!! Thank you and happy Friday the 13th!! Dear Friday Night, I'm going to be putting on a pretty dress and my big high heels and dancing the night away! Not sure where we are heading to yet after dinner, so be ready! Dear TGI Friday's, I cannot wait for my dinner tonight! Its gonna be so yummy and then not to mention the cocktails!! I cannot wait to get my hands on some of those ultimate ones!! The glasses are more like buckets!! Hehe! Dear Bank, it would be really good if you would stop me from buying silly things that I do not need! I really need to save all the money up in there and please just make it stay there! I think I am doing really well and not buying so much. So it would be good if you could help me out! Thank you very much! Dear Flat that I wanted Buyer, you are so totally cheeky!!! Were you too scared to wait for the auction and see it through?! You were very sneaky and just decided to ask the auction house if they would take an offer on it instead of waiting for the proper auction!! Well that was very unfair and I don't like you at all! Dear New Hair Cut, hello there! I like you very much! I am very glad I had you cut as I hadn't got it cut since January!!! You grow very fast and you are very clever hair, so now you are in a nice style you can grow as long as you want!! Dear Robert, I love you without wax forever! We will get a flat soon, we just need to save some more and work out exactly where we want to live and our wee flat will show itself!! Hehe! Dear Readers, thank you for taking time out to read my blog it actually means so much to me! I love this little space very much!
Thank you for reading! If you want to enter my give away feel free!! You can win a Stila eye shadow palette, so enter here!!