It's time to link up with Ashley from Adventures of Newlyweds and write out our letters of the week! Which has a new fancy button!! Everybody go "Ooooo"!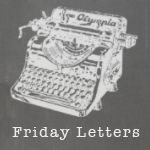 Dear Maltesers, who ever invented you was a genius!! Maltesers you are little balls of chocolate and honeycomb goodness and I love you! Dear Tomorrow, Please let everything go ok tomorrow and make sure Robert gets through it all right!! Dear Robert, please be well enough for me to take you to TGI's tonight?! I have been promising you one for ages and things keep coming up first! So if your cold is away and you feel a bit better and you can actually talk (!!) can we go tonight!!? It is my treat remember! Oh and do you have to still get a black suit for tomorrow? I have still to get a black dress too. Dear Shops, when Robert and I come looking for a) a black suit and b) a black dress, please just be there right in front of us! I really don't want to have to go traipsing around the shops for ages looking for them! Especially as Robert hates shopping!! Dear University, at last your system has allowed me to register for LAST YEAR!! Now my course can put my grades in and at last I can graduate!! Honestly what a palava!! Good luck to everyone who is starting uni, just make sure you keep on top of it and always register every year!! Hehe! Dear TGI Fridays, Right Robert and I are definitely coming to eat with you tonight, so make sure its really yummy food tonight!! Dear Shop (where I work!), I really am wanting to buy almost every scarf you are selling right now! I am scared to go into work tomorrow, because I just want to take them all to the till point!! Hehe, I can't even buy one that goes with my uniform, because the ones I like don't go with the pattern of my top!! Sad face, I can't even use uniform as an excuse to buy one! Dear Cats, I love you very very much! At the moment Flo you are just being the cutest little thing on the planet! And Alice, well will you just stop taking up half the bed!! I don't even know how you do it, because you are so small!! Little cheeky one!
Hope everybody has a good weekend!!!