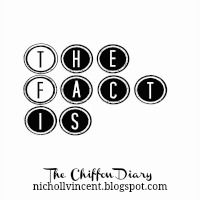 I have not done this link up before so here are my facts!
Fact: I love all fruits and hate all vegetables except for potato, but is that even counted as a vegetable anymore?!
Fact: Tomatoes are a fruit?!
Fact: Ok ok, I hate tomatoes, like HATE! Although I do love tomato sauce or ketchup for all you Americans!
Fact: I have Eczema, which sucks, and have had it now for over 4 years!
Fact: One of my cat

s, F

lo, had Eczema on a patch of her neck (see below image). So I took her to the vets, two injections later.. that was her cured!! A week later she was all healed up and her fur was growing back!!!!
Fact: How unfair?!?!?! I felt like asking the vet to give me those injections!!!
Fact: Why is it so hard to cure my Eczema?! Honestly doctors are rubbish!!
Fact: You can turn that word into two words fat cat! Teehee, which totally reminds me of the two podgy kittens that Alice and Flo used to be! Get ready to say awww!
Fact: Those little kittens were the cutest! How I wished they stayed that size!!!
Fact: I have no idea what I am supposed to do with my life! I don't know what I would like to do as a proper job. All I know is that I don't want a job to do with the degree I have just worked three years for! Funny isn't it?!
Fact: I know that I will eventually work out what I want to do in time! Don't worry Robert I will get there!
Fact: I really love this link up!! Well done to Nicholl for coming up with this brilliant idea!
Fact: I know you all want to take part, so click the link and join in!
Fact: I will definitely be joining in next week too!
Fact: For every fact I have typed on this post I have had to change it from Fcat, because I kept thinking of fat cat while typing!!! Hence why you have got a really random fact up there talking about fat cats! Haha, so basically my whole post should look like this:
Fcat Fact:!!!!
Oh the world of Jen is random it is true! Join in so I can see your random facts!
Love, Jen x